As the day came grayly on, the handsome man shifted his bicycle into a higher gear and stood up, leaving his teammates behind as he cruised up yet another short hill. His lean calves glistened in the steamy morning, coated with road grime from the last hours of rain, and his bulging quadriceps rippled from the strain. After 220 hard miles of cycling, could any man find the strength for this one last effort?
Cresting the hill, his matinée-idol features set in a frighteningly determined stare, he shifted into his highest gear and began pedaling furiously on the descent, rooster-tails of rain sluicing in his wake as he continued to attack the Chattanooga streets. A fever-wracked demon, he hit the bottom and kept churning the pedals, his powerful gluteals pumping perfect circles as the bicycle strained toward the finish. He could feel the rear wheel getting soft again from the slow leak, and knew that he had scant minutes before it would fail.
Would he get to the end in time?
But, I'm Getting Ahead of Myself
Tennessee had a fleche this past weekend, with three teams converging from points around the globe -- albeit a very small globe -- arriving in Chattanooga by Sunday morning. Two teams came from Nashville, and one came from Georgia.
When Jeff Sammons, the Tennessee Regional Brevet Administrator (RBA) announced this in the fall, I immediately thought about re-forming my old Heart of the South team: Jeff Bauer, Vida Greer, and Alan Gosart. We all got along very well then, and have similar cycling abilities. When I asked each of them, they were all up for it, and we again made a great team. We decided on a fun name ...
I had t-shirts made up with this on them
We started from Vida and Lynn's house, following a huge breakfast of pancakes. I rolled up a couple of extra pancakes with some peanut butter and put them in a zip-lock baggie -- this ride was all about the food.
The wind was fairly stiff out of the south-southwest as he worked our way down, stopping briefly at Henpeck Market to get a receipt (and a cookie) before turning towards Bethesda. From there, our course shifted slightly east, helping us along for most of the rest of the day. We cruised up over Pulltight Hill, through Allisona, on to Eagleville, and from there to our first stop at Bell Buckle, 71 miles in.
At Henpeck, I pulled out my camera to get a picture of the baked goods, only to discover that I had left the memory card for this camera at home. Otherwise, you'd get to see some pictures. Fortunately, I am an excellent writer, so you can easily visualize things from my flowery prose. Just squint a little harder.
From Bell Buckle, we took a new series of roads up through Noah, picking up the winter 200K route on into McMinnville. My original plan had us hitting the Hardee's control here about dinner time, but we were over an hour early and instead opted for a quick malted and a break. We were now about halfway -- 110 miles in -- but all felt pretty good. We hung out for about half an hour, talking with the folks coming in for an early dinner/late lunch/just a snack. Everyone was interested in what we were doing, as usual, evincing equal parts admiration and doubt regarding our sanity. They were all very nice about it, though, and wished us a good trip.
Leaving McMinnville, we wound our way through a bit of traffic to Hwy 127, and from there to Hwy 30. Soon, we were climbing Baker Mountain Road -- which we had renamed Baxter Mountain Road (you get a little loopy out there) -- fighting the headwind again as we got up to the chilly plateau.
Our water bottles were all pretty empty by then, so we stopped at the store before Fall Creek Falls State Park, bought some water, and took another short break. One of my teammates is a couple of week's away from that teammates 50th birthday, so we would sing "Happy Birthday to You" every 50 miles. As we entered the park, dusk was coming on as we sang "Happy Birthday" for the third time that day.
Our next control was A&H Market, just past the park. We use this market as a control on the Green Acres permanent, and twice on the old Tennessee 600K course, so they are used to us. We paused just long enough to get our brevet cards signed, put on night-riding gear, and top off our bottles.
Rolling out, it seemed as if we woke up every dog in middle Tennessee. A few of them came out after us, and since we were now rolling through a very dark night over a really rough road, they had no trouble catching us. We yelled at a number of them, squirted one or two, and I began cursing them all. After 150 miles, ending your ride by bouncing over a pit bull is not what you want.
Soon, we were doing the steep winding descent into Pikeville -- a great way to test your brakes and get a good upper-body workout (isometric tension -- Charles Atlas would approve). We regrouped at the bottom, and then headed over to dinner at McDonald's. This may have been the only restaurant ... well, "business that sells food" is probably a more appropriate appellation ... in the area, which would explain why it was teeming with teens. For some reason, most of them seemed spattered with gray mud. This, and the preponderance of killer monster trucks parked outside, lead us to believe that there must have been some kind of "bogging" event in the area ... or they just like to play in the mud around there.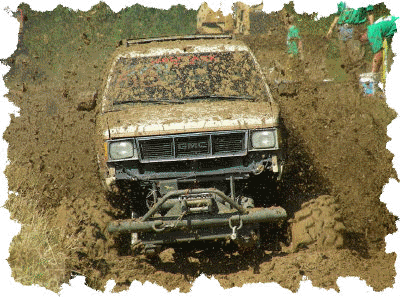 Is this really a good use of petroleum?
After two Angus steak burgers and a large fries, my tank was topped up again. We all tried to nap a bit, but the hub-bub of the adolescent mating ritual made that all but impossible. About 9:30 pm, we rolled out into the dark night.
It was a long climb up out of the valley on Hwy 30, and the wind had picked up considerably. Sometimes it was behind us, and sometimes it was in our face, but mostly it was blowing the last remaining bits of pollen around in a sinus-stiffling maelstrom. Jeff had been suffering more than most of us from the high pollen count that day, and this onslaught of yellow powder made the next few miles really hard on him.
Fortunately, it was less than 30 miles to the Dayton control, and traffic was fairly light, particularly for the long descent back down off this plateau. We were at the Huddle House control before midnight, where we again got the kind of looks that you just have to ride a brevet through the middle of the night in the middle of nowhere to really appreciate.
Despite her obvious questions regarding our intelligence, the waitress soon had us big cups of hot chocolate as she took our order. There were some other patrons for whom this seemed to be their standard late-evening hangout (I kept expecting a fat guy to walk in and have everybody yell out, "Norm!"), and they all had questions about what we were doing, why, and what our route was. Most seemed to agree that we had chosen good roads, although they suggested some alternatives that would be shorter and/or less hilly.
Generally, in a place like a Huddle House, you can get all kinds of information from the locals regarding how to go somewhere, what you can see on the way (not much at 2 am), and what used to be over that ways. Everyone was friendly and helpful, and seemed like the kind of folks that, when they passed you on the road later that night, would give you the full lane and wave at you. They're what my momma always called, "Good country folks."
We again tried to nap -- with a little more success than we'd had in the Pikeville McDonald's -- but the restaurant was closing at 2 am (we had now crossed into the Eastern time zone) and we soon had to roll out. It had started to rain, and as we crossed Hwy 27 and started up the very steep Providence Road we had to carefully balance between standing -- which would un-weight your rear wheel so that it slipped on the slick pavement -- or staying seated in such a way as to keep your front wheel from lifting up.
Oh, what fun.
The next 15 miles were a roller-coaster ride through the hills near the Tennessee River, and I'm pretty sure that we all wore out some brake pads there. The road was a little rough, littered with detritus, and the rain made for some slick spots and hidden holes. We plunged down into little valleys, brakes squealing, then pumped up the steep incline on the other side. By the time we reached Old Dayton Road -- a lovely, flat, calm two-lane that took us into Soddy-Daisy, we were ready for another break.
Pulling into the Huddle House, I noticed that my rear wheel felt spongy. The winter must have been very hard on the area roads, and we were bouncing off a barrage of heaved and cracked asphalt, so I assumed that the culprit was a pinch-flat. However, as Alan and I changed the tube in the light rain next to the restaurant, the small hole in the tube seemed to be on the rim side, and lacked the classic "snake-bite" pattern (two small holes right next to one another) that you get with a pinch-flat.
I checked the rim and tire as best I could, but couldn't find any thing that would have caused the puncture. Slightly uneasy, I inserted a new tube, pumped the tire up to full, and went inside to get some breakfast.
Vida had ridden over to the WalMart next door, where she managed to buy some dry clothes and borrow one of their industrial-sized space heaters to dry herself off ... mostly. She arrived soon after I finished the tire repair wearing a $3.00 jacket and a couple of $2.00 t-shirts, nice and toasty warm. We were all soon digging into our second breakfast of the morning (fourth breakfast of the ride), washing groceries down our necks with fresh steaming coffee like all-night truckers.
If there was a good side to the rain, it was that it had washed the pollen out of the air, and Jeff was no longer suffering. In Dayton, he had been forced to put wet paper towels over his eyes to take some of the swelling down. The hour of riding in the rain also cleared out everybody's sinuses.
Since this Huddle House was the "22-Hour Control," we could not leave before 5 am Central time (6 am there) -- or 22 hours after we had started our ride. We again lay down in booths to nap, and finally roused ourselves about 4:50 am, getting ready to sally forth once again.
My tire had not lost any air, so that whatever had caused the flat must have come out ... or so I thought. We headed out into a light drizzle, rolling down Old Dayton Road for another 10 miles before crossing into a series of side streets heading towards Hixson Pike.
Just before we reached the mall there, I noticed that the rear tire was again going flat. I pulled over and quickly pumped it up, thinking that whatever was causing the slow leak should let us get another 10 miles, and thus to the finish, before I was flat again.
No such luck. Less than two miles later, we pulled over again. This time, I felt around again to try to find the offending puncturer in the growing daylight, but couldn't find anything. I slapped in another spare tube, used Jeff's inflater to fill it (I only carry a frame pump), and we rolled on again. Another two miles, and it was flatting again, so I borrowed Jeff's inflater again and filled it.
Thus began a series of sprints to put mileage beneath our wheels -- particularly my mysteriously deflating rear one. Finally, with about 25 minutes before we ran out of time and less than two miles from the end, I borrowed a spare tube from Vida while Jeff cut up the flat one and inserted it in the tire as back-up rim tape. We popped in another C02 cartridge, inflated, and were climbing the penultimate hill to our destination. We had 15 minutes to finish, or we would be disqualified.
Furiously, we pedaled towards Frazier Avenue and the Walton Street Bridge. I was weaving across all the lanes in the early morning traffic trying to avoid any bump in the road, since I was pretty certain by now that the problem was a spoke that only poked through the rim tape when I hit one of the omnipresent ad hoc speed bumps littering the Chattanooga streets. We crossed the Tennessee River, turned right, and got to the Tennessee Aquarium at exactly 6:59 Central time. We had made it.
Jeff Sammons's team, which included Steve Phillips and Bill Glass, was there.
Jeff Sammons, Steve "Thumbs-Up" Phillips, and Bill Glass
Kevin Bullock had ridden with them from Sewannee, TN, and he took a picture of us standing around looking goofy and wet.
From left, Alan, Jeff Sammons, Steve, Bill, Vida, Me, and Jeff Bauer
The tire held out from here to our hotel, where we all got cleaned up and had yet another breakfast. RandoGirl drove down from Nashville and brought Vida, Jeff, Alan, and me back -- everybody but she and Jeff napped some more on I-24. I finally got to bed at 4 pm, and slept until midnight when I got up and cleaned my bike until 3 am. Although it was still holding up, I put fresh rim tape and a new tire on the wheel.
Then, finally, I deflated.