Saturday's forecast called for rain. Sometimes, unfortunately, the weather guys get it right.
I got up early -- before dawn, actually -- and took a long walk around Inverness. Eventually, I ended up back at Little Italy for another morning of capuccino and little cookies. Alfredo also had this wonderful pastry that he called a clam shell -- thin dough filled with sweet cream cheese.
Although I cannot give you an online taste of how good this pastry was, I can give you a look at this morning. Vida and Lynn Greer are there with Britton Kinnard, starting their recovery ride, and yours truly is there briefly in street clothes. Chuck Dunn filmed Alfredo in his kitchen working on a wedding cake. Alfredo had been up since 4 am working on the catering for this wedding, plus our dinner Saturday night.
Max Watzz is going to be so pissed when he gets his body back and finds that I have made it fat.
By the way, as you watch Alfredo, tell me if you don't think he looks like Stanley Tucci. RandoGirl said this, but I think he looks like Elden Nelson (a.k.a.,
The Fat Cyclist
).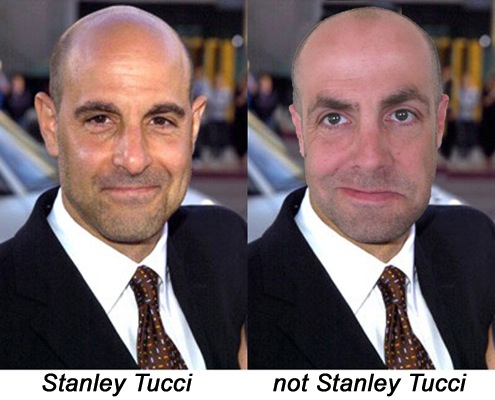 Not to say that Alfredo is fat. Of course, neither is Stanley or Elden. "Fat" is just a different concept for cyclists, who often suffer from
body dysmorphic disorder
... or need excuses for being such slow climbers.
Following Friday's sufferfest, Saturday's schedule called for a short recovery ride ... 35 miles or so at an easy pace. RandoGirl and I rolled out from the hotel about 10 am, stopping again at Little Italy for a couple of sandwiches to go. We headed north, planning to have a picnic at the top of the trail.
Within a few miles, it started to rain. A few miles later, it really started to rain. Soon, RandoGirl was drafting off to one side to keep from becoming an example of that most forlorn of birds: the speckled yellow-jacketed wheel-sucker.
It didn't work. She and I were pretty soaked and muddy when we reached the end of the trail in Dunellon. There, we ran into two fellows who were doing a self-sagged century, and were waiting for the rain to end to begin their return trip. They -- very wisely -- gave up soon afterwards, but wanted to chat with us for a while. I told them that we were looking for the Dunellon Beach Park, which Alfredo had told us about that morning. They didn't know where that was, or even where downtown Dunellon was. I got the feeling that they would have wanted to share our sandwiches had we opted to stop and eat there at the trailhead, so RandoGirl and I started back south.
We stopped about midway back and ate the sandwiches, watching the rain fall while we dripped puddles under a picnic pavillion. Then, cold and still wet, we hammered the last few miles back to the hotel, where we showered and took a nap in preparation for that evening's festivities.
Saturday night, Alfredo does a huge dinner at Little Italy. Here's what we had:
Pasta filled with pears in a white sauce, with (I think) nutmeg. This may be the best pasta dish that I have ever eaten ... and I've eaten a lot of pasta.
An Italian wedding soup. If the spoon looks dirty, it's because I slurped a bit before I remembered to take a picture. Sorry.
Pork shank with broccoli. The meat literally was falling off the bone, and the gravy was so good I was sopping it up with bread.
Wine. Lots of wine. Some of us probably had too much wine, so that I failed to get pictures of the gelato that came before the pork shank, and the cannoli for dessert.
All I can remember was that it was very good Italian wine. There was this Something di Something Something that was really tasty, and a Something de Tutti Whatever. Brunello sticks in my head somewhere, and maybe Tattaglia or Corleone.
Fredo de Stanley Tucci?
Yeah ...