WARNING: If you've been recording the Tour de France stages to watch later, get out now while you still can. I'm going to talk about Stage 8.
Still here? Okay, then. Don't say that you weren't warned ...
It was right after the third crash that involved Lance that an evil thought entered my head: I wished that Alberto Contador would crash.
And we're not just talking about a little road-rash-on-my-hip crash. I wanted a collarbone-in-three-places kind of crash. I wanted something bad enough that Versus would have footage of him the next day, all bandaged and sad-looking, getting into a team car for a ride to the airport, so that he could recover and watch the rest of the Tour from home.
Now, I'm no saint, but I am normally a fairly nice guy. And I'm not the only person that feels this way. When talking le Tour with my cycling friends, most of them have the same visceral dislike for Contador.
So, what did he ever do to us?
Some people say it's the "finger-bang" thing.
You think
that's
annoying? Is it any worse than someone telling us that they've won seven Tours?
Or someone bragging about how easy it was to stomp his rivals in this sprint finish?
There are hand gestures that may warrant a broken collarbone, but making a little toy gun thingy is
not
one of them.
Other people say it's because he's cocky. Wow, like we don't have other guys out there that are cocky.
We can dislike the guy that beats us up the big hill every Tuesday night because he's cocky, but professional athletes
have
to believe in their abilities. Maybe sometimes their abilities do not measure up to their belief, but if they do not
think
that they can do super-human things, then they will not
attempt
to do super-human things. And attempting super-human things is the only way that we can change our definition of what super-human
is
.
Besides, we have enough cyclists who are sufficiently unsure of their abilities so as to torpedo themselves in races.
(Yeah, the skull t-shirt so counteracts the wimp factor of cuddling a Pomeranian)
RandoGirl and the RandoDaughter have a better excuse for why we hate Alberto: They say he's ugly. RandoGirl, in fact, thinks that he looks like Zorak, the alien villain from the "Space Ghost" cartoons.
OK, they've got me there.
Oddly enough, by the way, they both think that Fabian Cancellera is cute.
I think he looks like a bit of a dork, but he does strike the right mixture of ability and humility. Also, you've got to respect the way that he pulled Andy Schleck in on stage 3.
So, maybe it's the "putz factor" for Alberto. We see homely Fabian Cancellera shredding his legs for his GC guy, and we like him. But then, when I was watching stage 8, at one point I saw Contador get a bottle of cold water, drink a little bit, and then pour the rest over Daniel Navarro's head. Navarro had been pulling Alberto most of the day, and looked like death warmed over -- as opposed to his normal look, which is more of the "single-digit-IQ" variety:
Anyway, so here's Alberto trying to save the life of his overheated
encephalopathic
teammate, and my first thought is, "Oooh. You drank from that bottle. You're dousing him in your spit."
Meanwhile, any of us that have raced 117 miles over two Cat 1 climbs in July know that cold water feels
spectacular
about that time, even if you get it from that leper guy in "Papillon."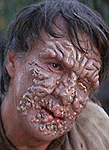 So, Alberto's there for his teammates, so he's probably not a putz. He's not good looking, but -- as a straight male -- that doesn't really matter to me. He's no more cocky than most of the guys in the pro peloton, and there are worse things that he could do with his finger. (Again, as a straight male, I don't know what those things are ... and don't want to know.)
So why did I want him to crash?
Put simply, it's because he made me feel old.
Sure, Andy Schleck is younger ... although he looks so young that, frankly, I would ask him where his mommy is if I saw him out riding on the road.
But it was Contador that beat Lance last year. And he's probably going to do it again this year.
We're all getting older. Even
Benjamin Button
had a finite amount of time. Some of us exercise to extremes in vain attempts to deny our degeneration, but at 51 years of age, I know that I am on the downhill side of this ride. Unlike Contador and Schleck, I probably ain't going to get much faster on a bike.
Lance is there with me -- worse, probably, because he performed at peak levels during his prime years. It makes me sad to say, but he really should
not
have come out of retirement.
Since man first discovered language, we have used it to sit around the fire and tell stories of heroes who survived the great battle. Legends who dust off their shield and return to the fray can only prove that they are, after all, mortal.
I should be angry with Lance, but I relate to him far too much. So, instead, I'll be angry at the little peckerwood who ran out onto the battlefield and got lucky with that first swing.