I've had a lot of people (okay, three) ask me if they can still sign up for the 200K of Nowhere. Being a harsh taskmaster (I even have
the costume
), I tell them, "No! You missed the deadline! You are weak and worthless! Now drop and give me 20!"
Imagine my surprise, then, when I opened my blog reader a few minutes ago and found that
Fat Cyclist has re-opened registration for the 100 Miles of Nowhere
.
Apparently, Johan Bruyneel -- director for
Team Radio Shack
-- wanted to do the
100 Miles of Nowhere
, but missed the sign-up date because he was out of the country. Fat Cyclist told Johan that he could go ahead and ride, but Johan really wanted the t-shirt and race plate. It's a very nice t-shirt, so I don't blame him.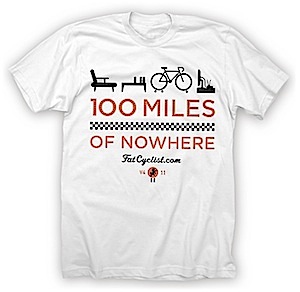 Anyway, Johan told Fatty that he wanted to get even more people to sign up and do the ride, but that he wanted to donate the money to World Bicycle Relief, a charity that sends bicycles to third-world countries. As a former racer, Johan is more comfortable riding with at least 100 cyclists, and works so much with LiveStrong that he wanted to give money to someone else. Fatty said okay, I'll send you a shirt, and Johan asked what size the t-shirt was, and Fatty said it was a small, and Johan said, no, I've been eating a lot of chocolate lately and that might be kind of snug, and Fatty snickered, and Johan said what was that, and Fatty said nothing, sorry, I was just saying that I'll get you a medium, and Johan said okay.
Phew.
Anyway, the upside for you is that, if you have not yet signed up for the 100 Miles of Nowhere, and want to join us May 21 in College Grove, TN, for the 200K of Nowhere, but you really want a t-shirt and race plate, you've got another chance. The downside is that the money that you donate will not go to LiveStrong to help in the battle against cancer -- the disease that killed our friend, Peter Lee. The other upside is that the money will go to something that, in my humble opinion, Peter would like, so you should still go ahead and do it.
The other downside is ... well, I guess there is no other downside.
Men, register
here
.
Women, register
here
.
Do it by 5 pm Nashville time, Thursday, May 5 (Cinco de Mayo, for our friends South of the Border ... or for those of you who plan to drink start drinking Dos Equis about this time). You'll get the t-shirt and race plate. Post a comment in this blog to let me know that you signed up and are coming to College Grove on May 21 -- this way I can make sure I've got enough food and drink for you and the 15 or so other folks that have already signed up. You'll get more free swag from me, and be registered in a drawing for some other prizes.
For more information on the 200K of Nowhere, go
here
.
Also, a message for Johan: I know that some of your Radio Shack guys will be in the area three weeks after this for the
Harpeth River Ride
, doing these same roads. If you want, you can come out and do the 200K of Nowhere with us and get a preview. You can stay with me, if you want. Bring Lance if you have to -- the spare room has two twin beds. A little practice descending Pulltight Hill five times might be good for Lance, if he comes out for the River Ride.